Potential MSc topics
Heads up!
Theses done in our group should follow the
requirements for open science
.
---
---
Using urban morphology to optimize biking and running routes in cities?
RIVM monitoring tool NSL tool, provides information regarding air pollution in streets for the most areas in the Netherlands. The tool uses urban morphology along other parameters to estimate local air quality.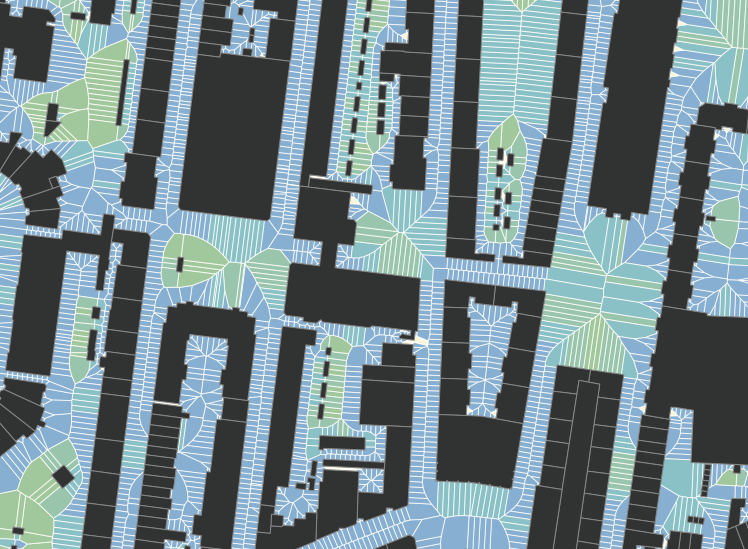 Within this MSc thesis we will exploit urban morphologies and NSL monitoring to optimize running and biking paths within Netherlands urban areas. For that oprn source tools such as momepy, and previously developed approaches such as de Jongh thesis (see image attached) will be explored.
Contact: Clara Garcia-Sanchez, Hugo Ledoux
---
Predicting pedestrian wind comfort and thermal comfort with Large-Eddy Simulations in uDALES
Pedestrian wind and thermal comfort still remain an important topic in the development of future urban scenarios. Considering the current climate change conditions, with increased frequency in heat waves and extreme weather events, the way we design our cities can further impact their resilience and comfort. Computational fluid dynamics (CFD) approaches can help us improving and adapting future and current urban designs to maximize sustainability and comfort. To maximize the predictability capabilities approaches such as Large-Eddy Simulations LES can be used to resolve most of the urban scales and model uniquely the small scales.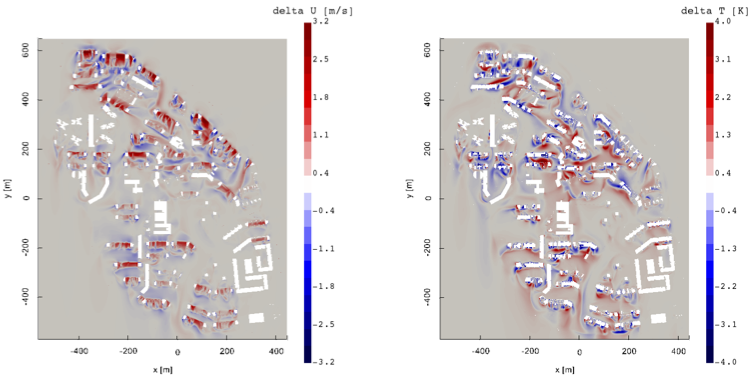 Within this MSc thesis we will exploit the capabilities of open-source tools such as uDALES to predict wind and thermal comfort in real urban scenarios. The initial set-up focuses on using part of the Clementi neighbourhood in Singapore, which was already set-up by previous MSc thesis to run RANS simulations in Opsomer. Considering the demanding computational capabilities required by LES, this area can be potentially reduced, or other test cases can be also explored. Attendance of elective course GEO5015 in Q4 or similar CFD knowledge is required.
Contact: Clara Garcia-Sanchez, Ivan Pađen
---
Heating energy demand of the Dutch building stock with the help of the 3D BAG 2.0
The 3D BAG 2.0, a dataset containing LoD2 geometries of buildings of the whole Netherlands, has been recently released by the 3D Geoinformation group. The scope of this thesis is to test the suitability of the 3D BAG to estimate the energy demand of residential buildings. In this thesis, the energy demand computation will be based on the quasi-static energy-balance method and will implemement a Python-based subset of the specifications defined by the recently introduced Dutch norm NTA8800.

The thesis is a collaboration between the 3DGeoinformation group and the Building Energy Epidemiology group at TU Delft. Attendance of elective course GEO5014 in Q5 (September 2021) is highly recommended, as many relevant topics needed for this thesis will be covered.
Contact: Giorgio Agugiaro (3D Geoinformation Group), Paula van den Brom (Building Energy Epidemiology group)
---
Optimizing building mesh designs for computational fluid dynamics using machine learning
Since one of the major burdens when performing computational fluid dynamic simulations (CFD) is to set up a good mesh, improving the current capabilities to mesh automatically complex geometries would have a large impact for the computational fluid dynamics community. This task becomes really essential when geometries are complex, such as high resolution level of detail buildings, and severals hundreds of simulations need to be run to quantify uncertainties.
In this MSc thesis we will apply the automatic meshers available in OpenFOAM (SnappyHexMesh and cfMesh) and combined them with machine learning techniques to improve current mesh set-ups. We will start by simplified geometries with low level of detail, and increase progressively details. The results can potentially help us reducing the amount of time spent designing our city mesh, and thus allow us to perform faster analysis.
If you work on this topic, you can expect to learn about mesh generation aligned with CFD best practice guidelines, set-ups and flow simulations. Programming experience and interest is an advantage for this topic. Your work will require to implement source code for the analysis of the set-ups (in C++ or Python).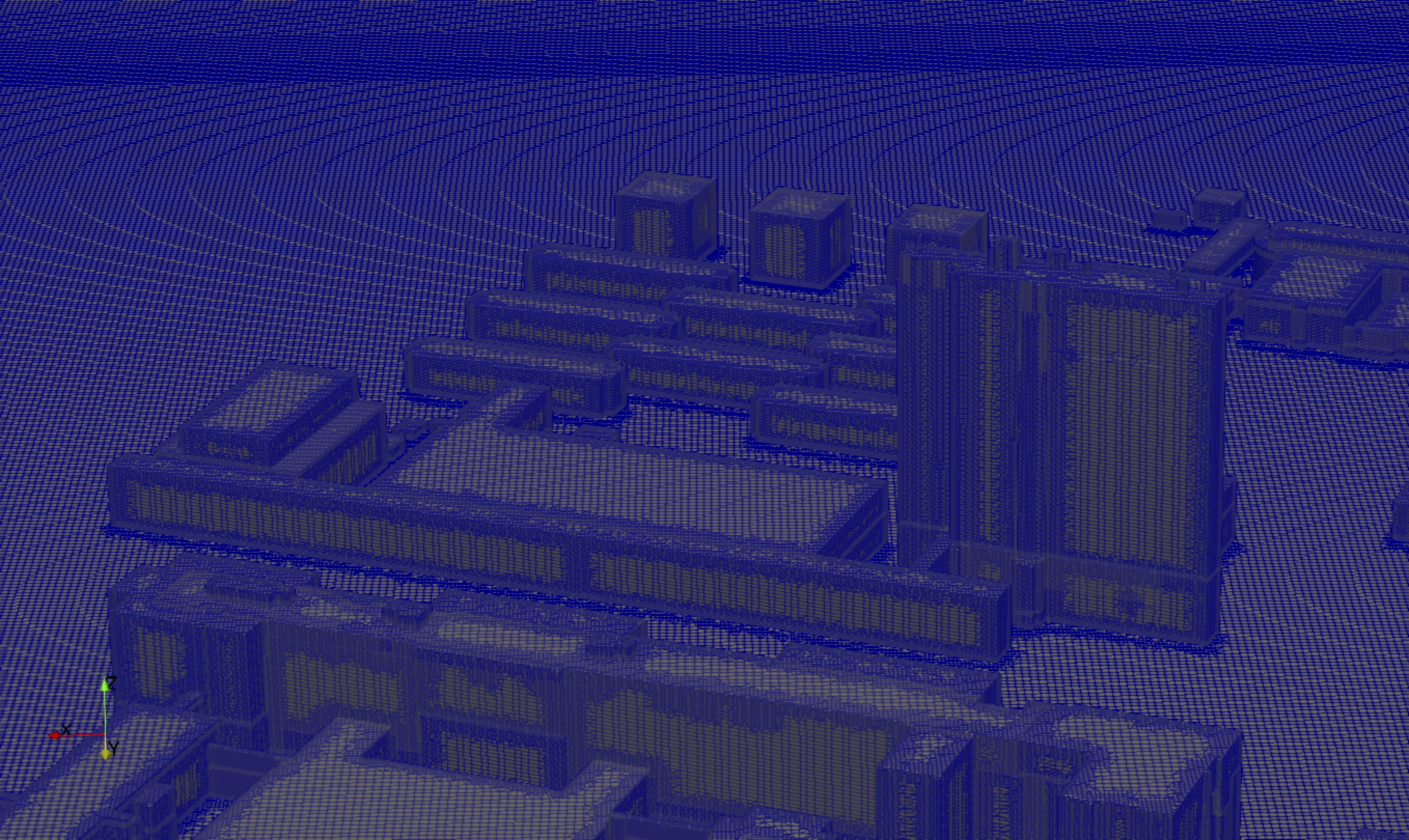 Contact: Clara García-Sánchez and Ivan Pađen
---
To mesh or not to mesh: immersed boundary methods and porosity in OpenFOAM
One of the major burdens when performing computational fluid dynamic simulations (CFD) is to set up a good mesh. This task becomes really time consuming when geometries are complex, such as high resolution buildings. There are a few strategies to avoid the usage of an explicit mesh, but using immersed boundary methods or porosity definitions which in a very general description allow to construct regular meshes and represent the buildings through forces.
In this MSc thesis we will apply the already developed immersed boundary method in OpenFOAM-extended and compare it with a porosity approach through several standarzied CFD study cases. The results can potentially help us reducing the number of buildings to be mesh explicitely, and therefore the amount of time spent designing our city mesh.
If you work on this topic, you can expect to learn about CFD best practice guidelines, set-ups and flow simulations. You will also work with real experimental wind and turbulence data recorded in wind tunnels. Programming experience and interest is an advantage for this topic. Your work will require to implement source code for the analysis of the set-ups (in C++ or Python).

Contact: Clara García-Sánchez and Ivan Pađen.
---
Web application for Urban Computational Fluid Dynamics Simulations Set-Up validation.
Performing computational fluid dynamics (CFD) simulations in urban environments entails many pre-run set-up features that can have a drastic impact in the simulations performance. For example, the extension of the domain should be large enough to limit blockage around the buildings, or the mesh resolution should be refined enough to ensure the flow results grid independence. Many of these pre-run processes can be partially automatic, and tools that quickly check if the simulation set-up respects the CFD guidelines can be developed.
In this MSc thesis we will develop a web application that allows to import CFD set-ups from users and check their compatibility with the most up to data CFD guidelines developed by the wind engineering community. The application will analyze the set-up and report back to the user with potential improvements, if needed.
If you work on this topic, you can expect to learn about CFD best practice guidelines, set-ups and flow simulations, as well as web development. Programming experience and interest is an advantage for this topic. Your work will require to implement source code for the analysis of the set-ups (in C++ or Python) and the web interface (in HTML and JavaScript).

Contact: Clara García-Sánchez and Stelios Vitalis.
---
The thesis builds upon work carried out in previous MSc theses (e.g. this, check out the video ) in which a first prototype of a geodata-supported design tool for new urban development areas was created. The tool is coupled with semantic 3D city models as a source of integrated spatial and non-spatial information. The thesis will focus first on testing the existing tool and will then implement new functionalities. Possible examples are the computation of KPIs for urban analyses, 3D web-based visualisation and interaction interfaces, as well as scenarios management. The precise development focus of the thesis will be agreed upon with the student.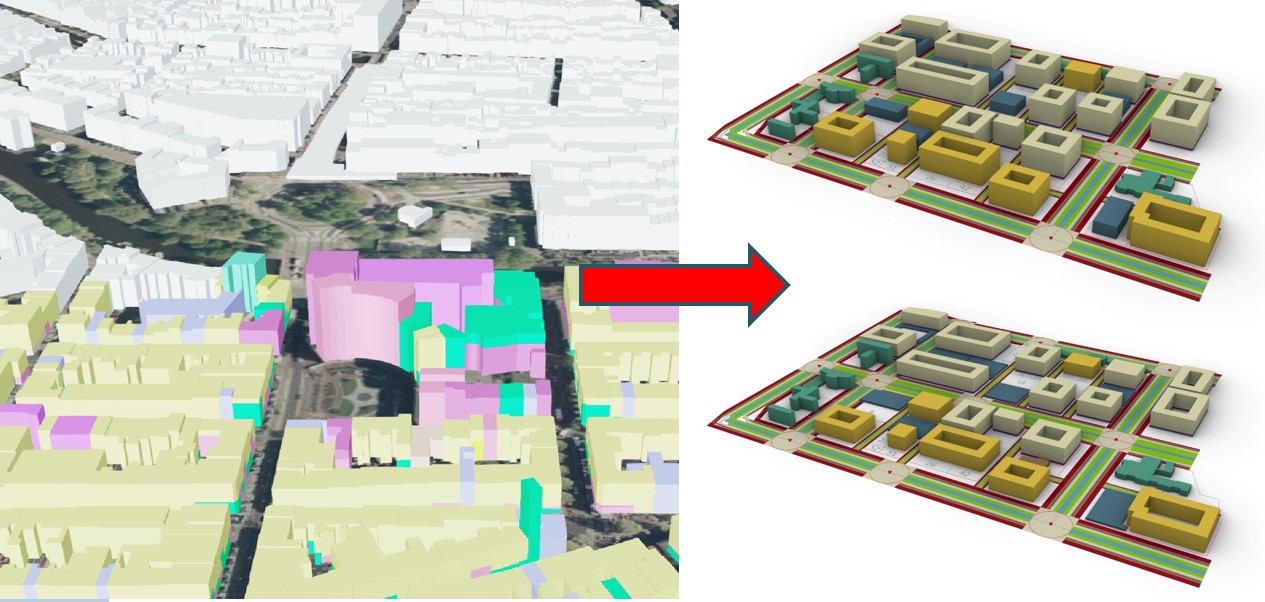 The research will be carried out on a selected case study and in cooperation with the Cross Domain-City of the Future graduation studio, which focuses on how to design and develop in an integrated way a transformation area into an attractive future urban environment.
Contacts: Giorgio Agugiaro, Roberto Cavallo
---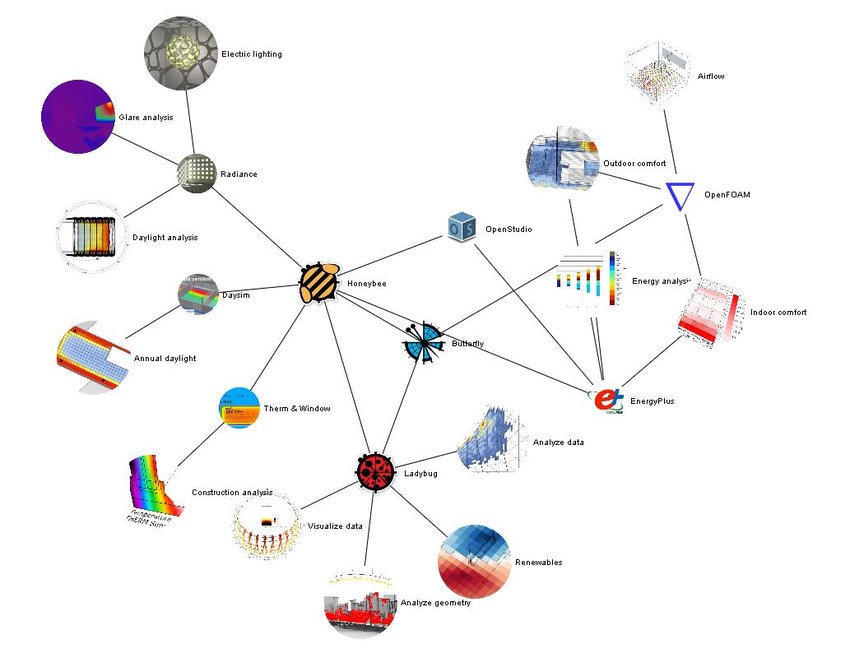 The MSc thesis will focus on interoperability between the Ladybug tools and semantic 3D city models encoded in CityJSON and extended with the Energy ADE. The Ladybug Tools are a collection of free applications that support environmental design and education. They are among the most comprehensive, connecting 3D Computer-Aided Design (CAD) interfaces to a host of validated simulation engines. The thesis builds upon a previous MSc thesis completed in 2020.
Particular attention will be paid to energy-related topics in order verify how and to which extent the CityGML Energy ADE (Application Domain Extension) can be used to deliver and store additional energy-related data needed by the Ladybug tools.
The students' task will consist in choosing (together with the supervisors) a specific application covered by a Ladybug tool, to analyse the software and data requirements of the selected Ladybug tool(s) and to perform a mapping to underlying CityGML/Energy ADE data models. In addition, proper interfaces will have to be developed and tested by means of a concrete case study. This topic is available for up to two students (each one choosing a different application area).
Contact: Giorgio Agugiaro and Hugo Ledoux
---
Improving automatic meshing for buildings
Computational fluid dynamic simulations require detailed meshes that can represent obstacles features accurately. In numerical simulations, the quality of the mesh can draw the line between good and poor results. Nowadays, mesh tools are general and they are not necessarily optimised for meshing entire cities, requiring large time investments to design and improve the mesh quality.
This MSc project focuses on developing an algorithm that create the mesh automatically around buildings by specifying a limited number of parameters that define the grid cells sizes. The mesh will be generated from a top-up perspective, initially extruding the geometrical edges to create cell layers close to the buildings. The approach will be first tested in 2D single and multiple building geometries.
Knowledge of programming in python is required. Following elective course GEO5013 is an advantage.
Contact: Clara Garcia-Sanchez and Hugo Ledoux
---
Inferring the needed building permission from a 3D building model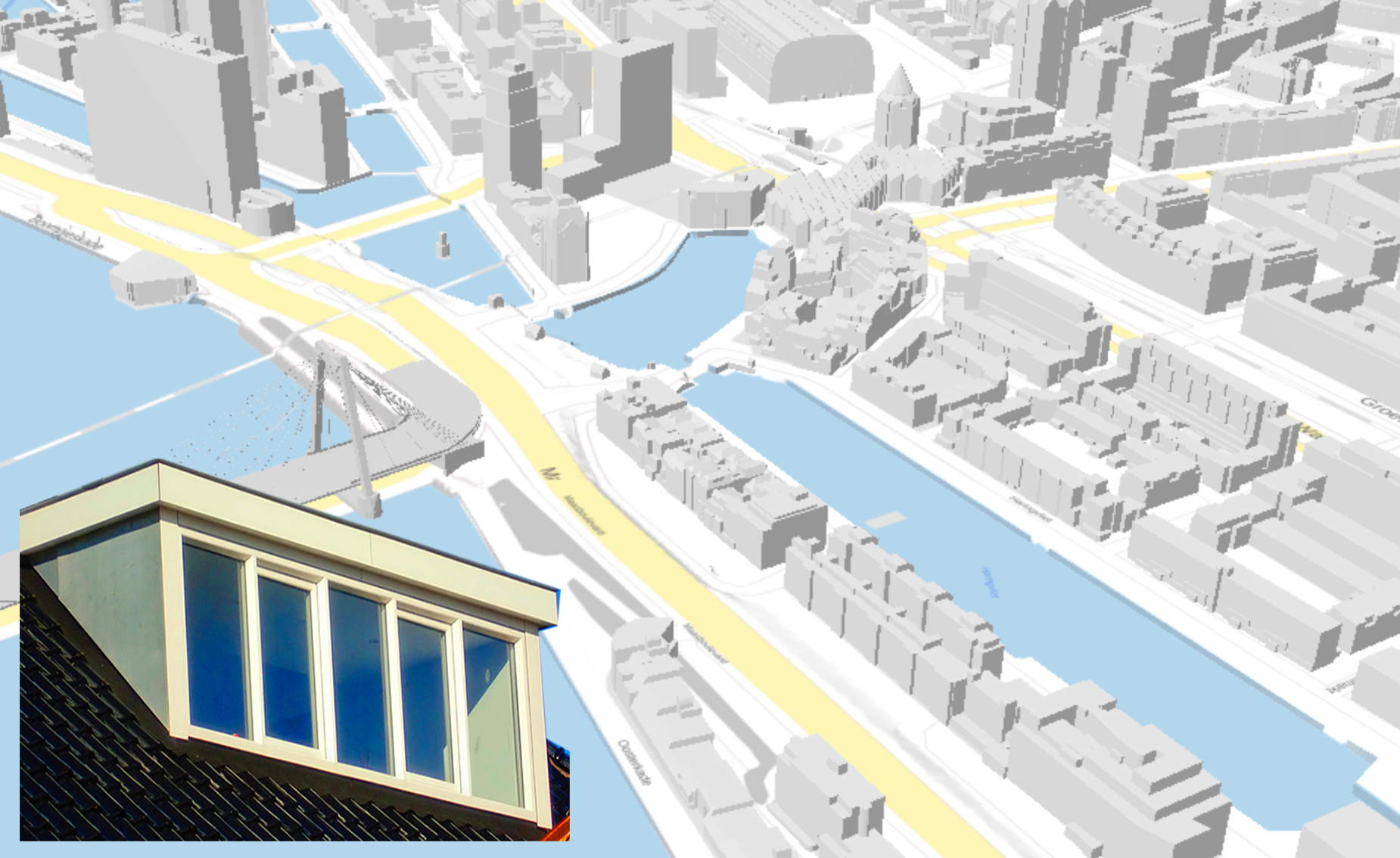 In the Municipality of Rotterdam the building regulations are very different if a construction work on a roof is a dormer, an additional floor, or something else. It can be difficult to figure out what regulations apply for a given construction plan. To make this easier the municipality of Rotterdam would like to offer a tool that can automatically determine what permits are needed, given a 3D geometry of the building plans. The tool should be able to infer what kind of object is designed and provide to the designer the needed regulations and constraints.
In this research the aim is:
to build a web application that can read an LoD2 CityJSON model of the current situation and allows the user to modify the building with the desired modifications;
to develop a method that can infer what kind of object was designed in the web application (only objects on the roof will be considered) and deliver the related regulations accordingly.
Contact: Francesca Noardo and Stelios Vitalis.
---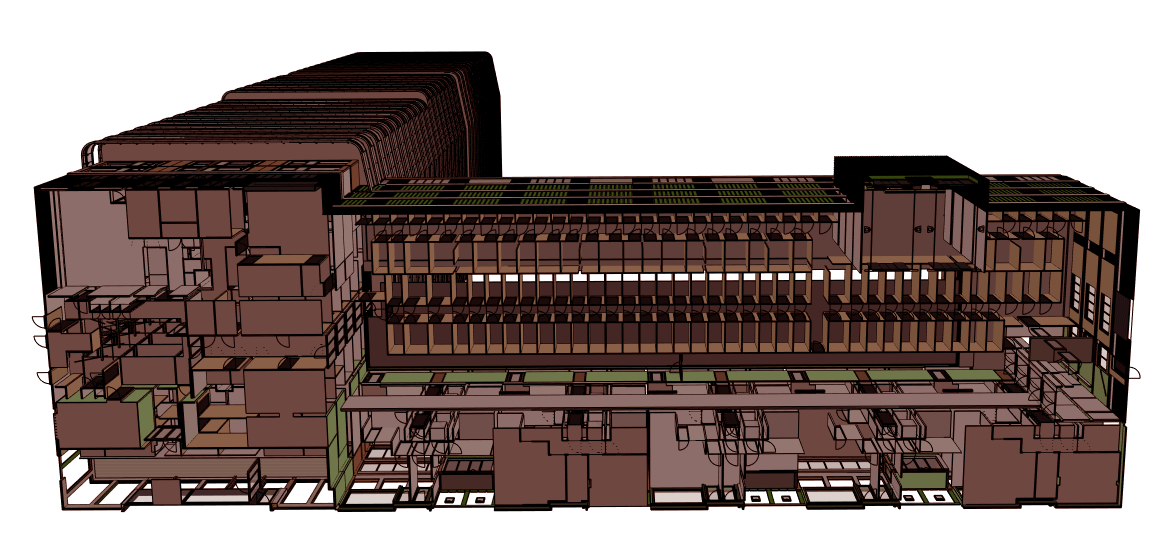 Given a Building Information Model in Industry Foundation Classes (IFC) format, it is necessary to extract useful information for automatic processes, such as the building envelope, number of dwellings, storeys or rooms in the building and the respective volumes and dimensions, for example to support compliancy check with the urban regulations.
Prior algorithmic knowlegde, recursion, graph concepts could be beneficial.
In collaboration with Municipality of Rotterdam.
Contact: Ken Arroyo Ohori and Francesca Noardo
---
Semantic labeling of roof top structures in 3D BAG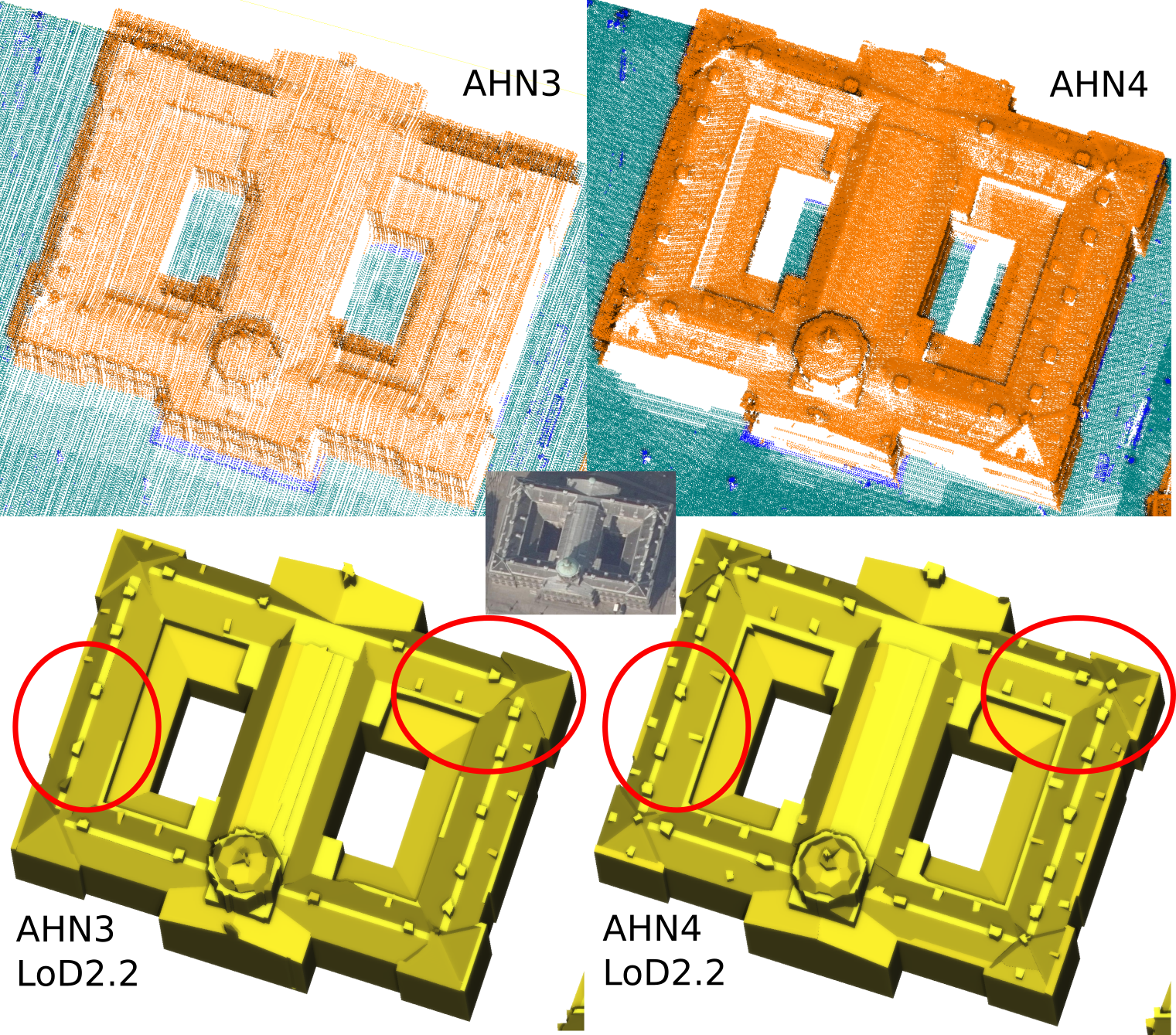 With the 3D BAG we have LoD2.2 building models for the whole of the Netherlands. Unfortunately the semantics of these models is still very simplistic (only a very basic classification of wall/roof/floor surfaces is present). The goal of this project would be to develop an automatic method to semantically enrich these models by detecting and labeling rooftop structures such as chimneys, A/C units and dormers. This is useful for applications such as optimally placing solar panels.
Programming required, C++ recommended.
Contact: Ravi Peters
---
3D Cadastre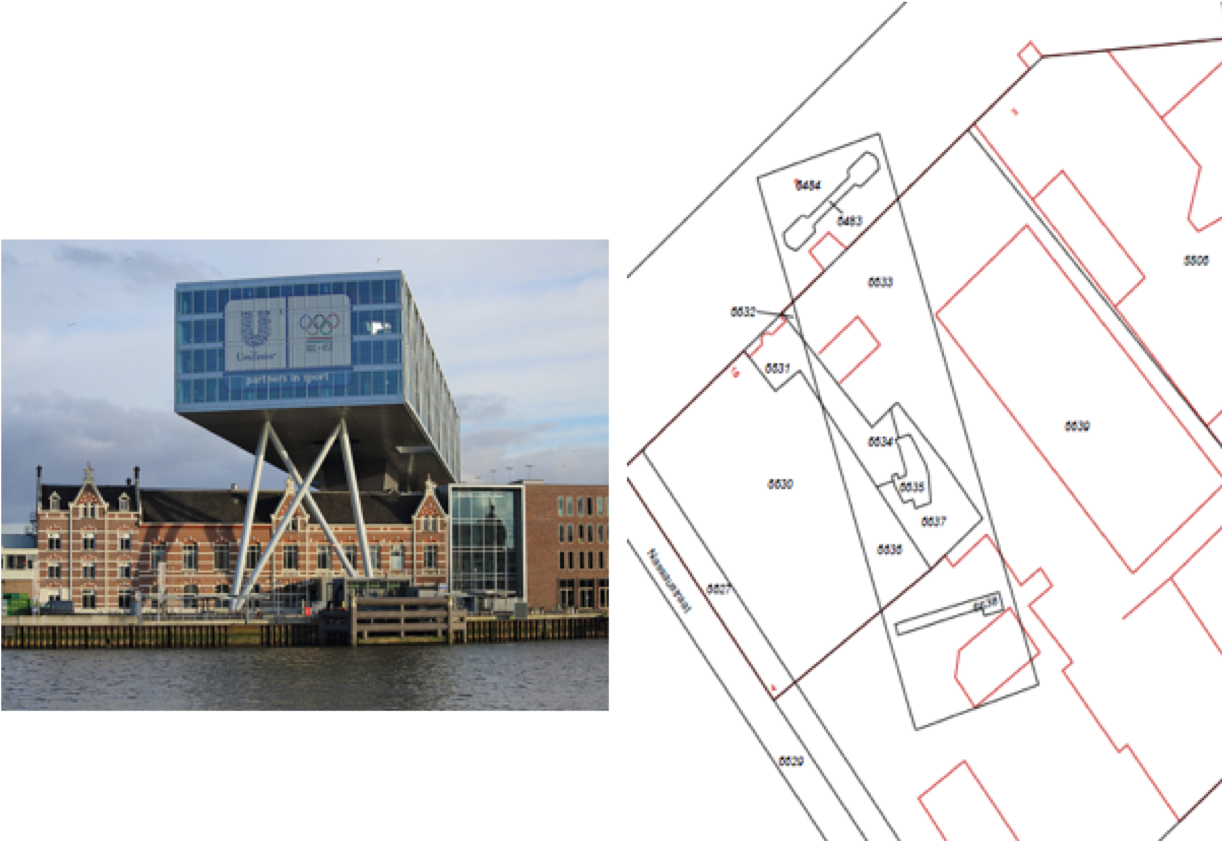 Since more than 15 years, lots of studies have been done on 3D Cadastre to register multilevel ownership in a transparent and proper way. In 2016, we realised the first 3D cadastral situation 3D cadastral registration in the Netherlands. However, there is still a gap between research and practice. In this research you will analyse how a Level of Detail Framework, that defines specifc solutions for specific 3d cadatsre problems may help to close the 3D cadastre research-to-practice gap. The idea is explained in this short paper
Contact: Jantien
---
Snap rounding in a triangulation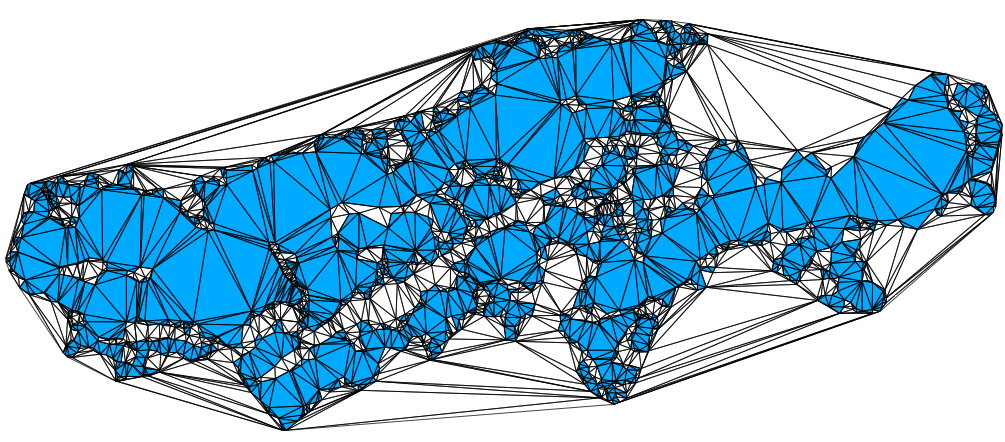 The most common way to do merge adjoining datasets from different sources or to clean small inconsistencies within and between datasets is to apply snapping (point-to-point or point-to-line). Snap rounding extends this method in order to give robustness guarantees, like a minimum distance between points or points to lines, but current implementations, such as the one in CGAL, are extremely slow. Related to this, in the project pprepair, we have previously used a constrained triangulation as a robust method to repair polygons and planar partitions. Using this approach topological errors are automatically fixed. We think that using a triangulation as a base structure is an intuitive and efficient way to optimize snap rounding, since we can perform simple snapping and recover from topological errors afterwards.
The existing prototype (pprepair has been developed in C++, and the best libraries are also in C++, so knowledge of C++—or a strong desire to learn it—is necessary.
Contact: Ken Arroyo Ohori
---
Integrated modelling of utility networks in the urban environment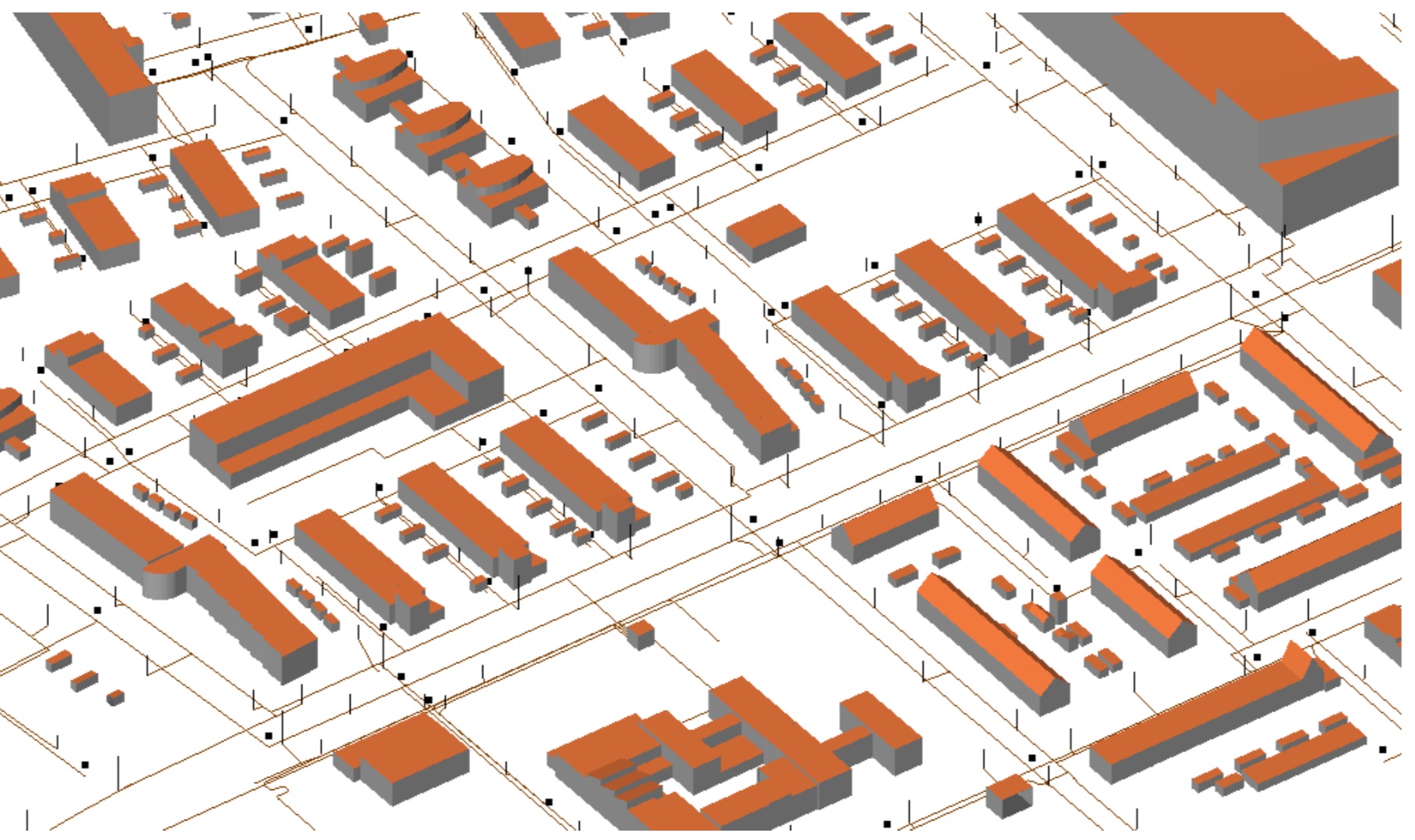 In the framework of Smart Cities, the MSc thesis will focus on interoperability issues when it comes the heterogeneous utility networks (e.g. gas, water, electricity, sewage, district heating, telecommunications, etc.) that are found in the urban environment. Starting from a CityGML-based 3D city model, the Msc. thesis will focus on testing the Utility Network ADE (Application Domain Extension) and compare it to existing or newly proposed standards (IMKL or MUDDI), based on a concrete case study which will be agreed upon with the student. The image shown here is taken from a previous thesis and serves as example - and starting point - of the overall topic of the thesis proposed here.
Contacts: Giorgio Agugiaro and Jantien Stoter
---
Performance and robustness of software libraries for computational geometry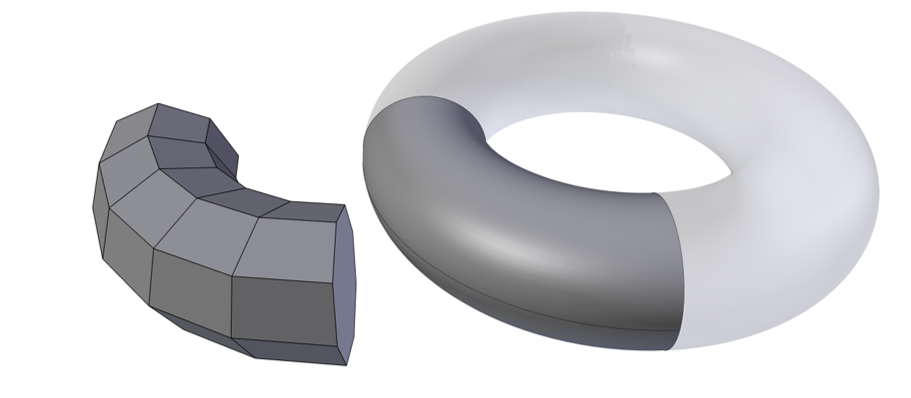 Software libraries for computational geometry underpin a lot of our research, but an in-depth comparison of how these different software libraries behave in terms of performance and robustness is not available. For example, the feasability of multi-disciplinary use of geometry in BIM/GIS integration and automated thermal analysis of IFC building models is largely shaped by the characteristics of the algorithmns offered in open source libraries such as CGAL and Open CASCADE. This research project is an opportunity to publish something novel, useful and relevant to many disciplines.
Contact: Thomas Krijnen
---
Building floor count determination by Convolutional Neural Network
Accurately knowing the number of floors of a building is an important factor when assessing the built environment. However, there is no accurate global dataset that contains this information. Simple techniques like diving the total building height by an average height per floor are sometimes used, but this obtains merely an approximation.
In collaboration with the company Superworld, the idea is to develop a method that uses images (eg Google Street View) and a base map (eg BAG in the Netherlands) to automatically derive the number of floors in a building using Convolutional Neural Networks (CNN).
Contact: Ken Arroyo Ohori
---
Creation of a sample dataset of construction of additional floors on top of existing building
Additional floors are sometimes added to buildings for various reasons, such as redensification. However, this is a complex process subject to technical and legal issues.
In collaboration with the company Superworld, the idea is to develop a method that uses publicly available datasets (eg BAG) and building permit applications in order to create a reference dataset containing all buildings where a vertical extension or a construction on top of an existing building have been conducted. Such a dataset can then be used to give a confidence factor for the feasibility of an extension to an existing building.
Contact: Ken Arroyo Ohori
---
Something with streaming TINs for massive datasets
The AHN3 dataset contains a lot of points (600+ billions), and while these are useful on their own, some applications would benefit from having a TIN, isocontours, objects extracted from them, etc.
You learned in GEO1015 how to create a Delaunay TIN, and for massive ones the theory about streaming geometries was explained.
The aim of this project is to extend the work already done (sst + one ongoing MSc thesis about simplification) and do something with all those points. Exactly what I am not sure yet, but if you like the challenge of dealing with several billions of points, then we can find a good topic. Isolines extraction, or gridding, or improving the code and scale to the whole of the Netherlands are potential examples.
Contact: Hugo Ledoux
---
Filling the gaps in aerial point clouds with deep learning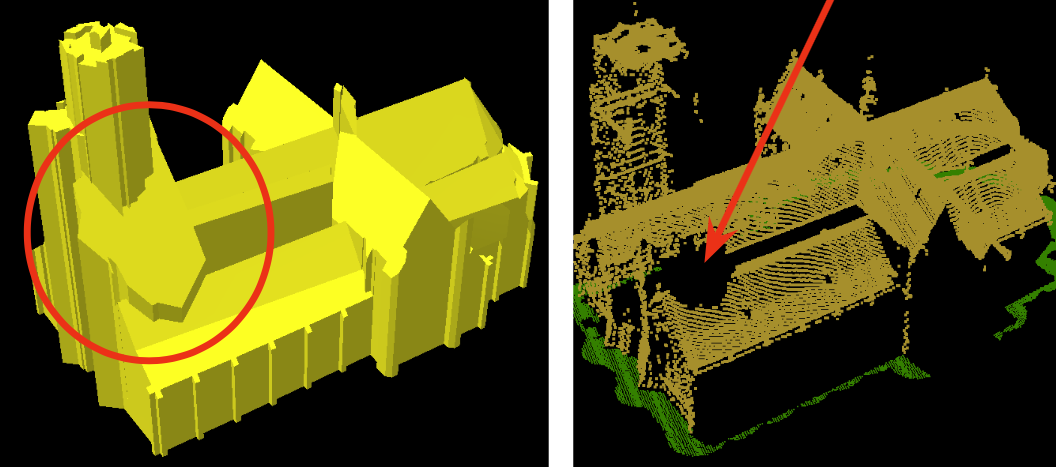 Because of the way they are collected, aerial point cloud datasets acquired with lidar often contain areas with no measurements due to occlusion effects. This occurs for building façades and other vertical surfaces (e.g., in dormers), but also other surfaces next to tall structures such as a church tower (see right part image above). The gaps in the datasets are problematic for the processing of point cloud, for instance automatic reconstruction algorithms can fail or output 3D models with several artefacts (see left part image above).
The aim of this research project is to design and implement methods to complete aerial point clouds datasets such as the AHN3 dataset (that is fill those gaps). The idea is to investigate how new developments in deep learning (specifically DeepSDF, and ShapeInversion) and to adapt it to aerial point clouds. The focus would be in the first place on buildings, so that their regularity and verticality could be exploited.
The student would be expected to take a machine learning and/or deep learning course as elective.
Contact: Hugo Ledoux + Ravi Peters + Weixiao Gao
---
Developing methods for edge-matching with customisable heuristics (geometric, topological and semantic)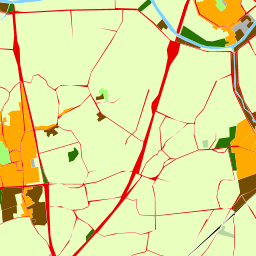 The methodology will be studied from a use case of Statistics Netherlands (CBS).
CBS is responsible for the bi-annual publication of the land use register (in Dutch: Bestand Bodem Gebruik or BBG). In this dataset, ground level land use for areas of 1 ha or larger is classified into 20+ land use categories. The area demarcation and classification have, up till now, been done manually. In the manual process CBS uses a combination of aerial imagery and a selection of cadastral topographical maps. CBS is developing a new methodology to automatically combine topographical information and other administrative (register-based) datasets (with a manual fine-tuning post-process, if needed). By overlaying and prioritizing polyline-based planes from a set of different topographical data sources, adding attributes to these areas from administrative data sources, and applying a number of geo-processes, a new set of planar partitions is created. These automatically generated planar partitions will inevitably have some differences with the reference (manually coded) BBG year 2017, either in shape or in category. The challenge is on developing a method for describing and detecting important categorization and delineation issues, based on deviations from earlier versions of the BBG and developing (semi) automated solutions to solve these issues, in order to minimize the required manual post-processing. This also includes solving gaps, overlaps and disconnections, in the context of the neighboring areas. There are different heuristics feasible, an important one being the combination size and the nature of the deviating area. In such a heuristic, small differences in size combined with a less important categorization difference (e.g. street and living area) are of less importance than a big difference in size and an important difference (e.g. forest vs living area).
Contacts: Jantien Stoter + Ken Arroyo Ohori + someone at CBS
---
Enrich the 3DBAG with the "material type" for each surface

The 3D BAG contains the geometry of all buildings in the Netherlands, and some attributes are attached to these.
To increase the usefulness of the datasets, it would be useful if the material of each surface was known. For instance: (1) architects and spatial planners would like to know if a roof/surface is made of bricks, tar, green/vegetation, solar panels; (2) engineers working with CFD simulations have similar needs, the type can help better simulation the wind in a city.
The aim of this project is to enrich the surfaces of the 3D BAG with certain material types (what these are will need to be determined) and use the aerial photos openly available on PDOK and/or the AHN3 properties (eg # of returns, intensity, etc.) to obtain the results. One issue is that the aerial photos are nadir photos, and the façades are often not visible; the project will try to solve this with perhaps other datasets or by using solely AHN3.
I assume that since it's a classification problem, machine learning will be used.
Contact: Hugo Ledoux
---
Update 3D BAG from different point clouds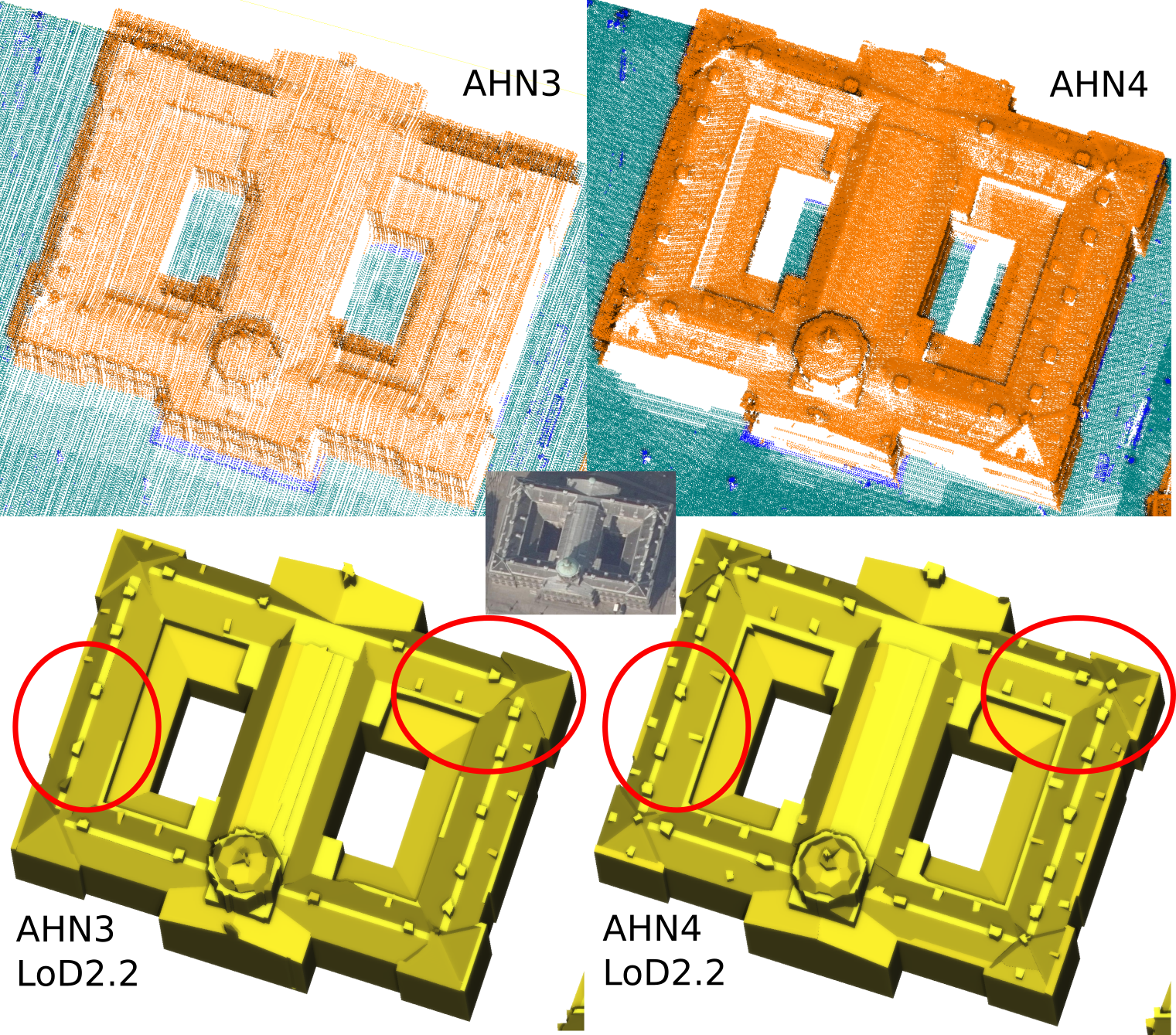 The 3D BAG contains the geometry of all buildings in the Netherlands. The models are reconstructed from building-polygons (BAG) and AHN3, which is a point cloud obtained by airborne LiDAR technology. Now AHN4 is becoming available, the question is how to best update 3D BAG. AHN4 is of a more recent date, but it also has other characteristics than AHN3 such as higher point density and different occlusion (and the occasional lack of points on black roofs) in urban areas. In addition, some municipalities acquire their own point clouds on a yearly basis, with yet other characteristics. The aim of this MSc is to develop a methodology to automatically update the 3D BAG on a regular basis by combining different point clouds while using the strengths of each height source to obtain the most detailed and up to date 3D BAG models.
Contacts: Jantien Stoter + Ravi Peters