Version 1.0 of val3dity is released!
18 Apr 2016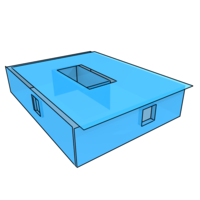 Today I'm happy to officially release the v1.0 of val3dity: my code to validate 3D geometries (solids, composite- and multi-surfaces) against the ISO 190107 rules. The source code of v1.0 is available here.
I started in 2010 to work on it (thanks to a sponsorship from Safe Software), and I've been working on it part-time since then. During the OGC CityGML Quality Interoperability Experiment (QIE) in 2015, I've tested and improved it a lot. It's now mature, robust and complete enough to be used by anyone.
To use it, you can either compile the code yourself (it's trivial under Mac and Linux) or use the web application. The latter is a simple server that I maintain: upload your GML file, the latest version of val3dity will validate it and you'll get a detailed report back. Your uploaded file is deleted right after it's been validated, I promise.
Oh, and one nice option: you can even validate your CityGML files directly on your phone! I'm sure this has happened to you too: you go to bed in the evening and then realise you totally forgot to validate the <gml:Solid> in your file… Now you don't need to go back to your computer, you can do that from the comfort of your bed.